Leila de Lima can't control her immorality
Tuesday November 27, 2018 ()
Imprisoned Senator Leila de Lima's long-time flame Ronnie Dayan is turning out to be a serious headache for her supporters, who are trying to paint De Lima as a prisoner of conscience, due to the simple narration of their relations.
Dayan, who apparently retains a resentment for being scorned or betrayed by the former Justice secretary, is one of the strongest witnesses against De Lima outside of the high-value inmates of the New Bilibid Prison (NBP).
The defenders of De Lima have cited the characters of the inmates who are mostly drug traffickers as their best evidence in their claim that the charges against her were all fabricated.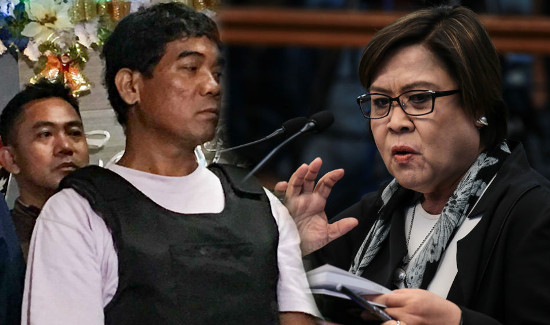 (Ronnie Dayan and Leila de Lima)
At a House hearing last week on De Lima's disobedience to summons case, Dayan said he slapped De Lima, then secretary of Justice, when he found out that she had a new boyfriend, who was a member of her security team.
"My relationship then with Ma'am was on the rocks. She said we're not happy anymore together as we always argue. So, when I learned that one of her mobile escorts, Warren Cristobal, was a new boyfriend, I remember slapping her a little and said, 'It seems that you will not spare anyone from your security detail.'"
Dayan said he and De Lima had an affair for seven years, which started just months after he started working for her as driver and bodyguard in 2007.
The testimony flies in the face of the yellow De Lima advocates who desperately wanted to make her an icon of the campaign against Rody.
A chart that Rody earlier made public detailed a narcotics network involving government officials with De Lima as kingpin and Dayan as her sidekick.
He also cited a sex video featuring the couple to prove the "uncontrollable" immorality of the senator.
"Everything came out, even her imprudence in bed. That (De Lima sex video) was not photoshopped. It was intended by her lover and she agreed to it," he said.
Rody also revealed her relationship with Cristobal, who used to be her Metropolitan Manila Development Authority (MMDA) traffic escort.
He said the information was related to him by former MMDA chairman Francis Tolentino.
"He rides a motorcycle. He was one of her escorts: MMDA. So, who told me that? (Francis) Tolentino, the (former) MMDA chairman, because De Lima wrote him," he said.
Rody explained the connection between the senator's indiscretion and how she is being repackaged as a crusader for good government.
While inconsistent in some of his testimonies in an apparent effort to save his skin, Dayan established the connection of De Lima to the NBP narcotics mafia.
Also key to the De Lima-NBP link were accounts given by alleged drug lord Kerwin Espinosa and the prisoners who swore to De Lima's use of drug money to fund her senatorial bid.
While Dayan and Espinosa gave different accounts on when money was delivered to De Lima, both, nonetheless, pinned De Lima to the NBP drugs trade.
Another proof of the value of Dayan's testimonies was De Lima's efforts to prevent him from testifying.
It was only after the House ordered his arrest did Dayan appear at the inquiry.
After Dayan's arrest, the congressional inquiry was reopened and during the hearing, he and his daughter testified that De Lima instructed him not to appear in Congress. The senator gave the instruction through a text message to Dayan's daughter.
The point is simple enough: if Dayan, the jilted lover, attested to the improper relationship that he had with De Lima, then allegations of De Lima's link to the NBP drugs factory should also be true due to her lack of morals.
Sources: